How Award-Winning SbW + Stowable Column Will Transform Future Mobility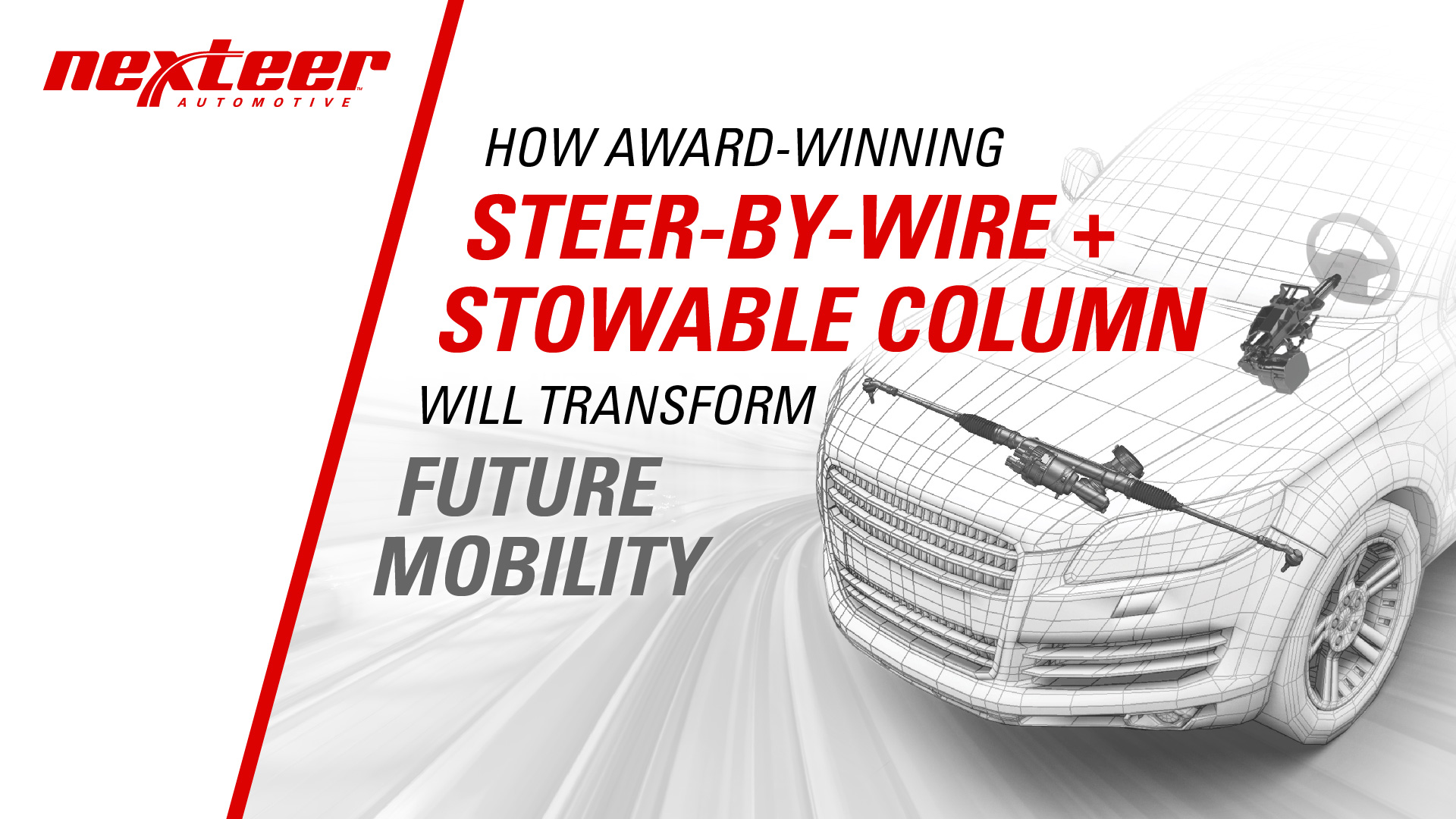 Nexteer's technology combination of Steer-by-Wire (SbW) with Stowable Steering Column reinvents the "behind-the-wheel" experience and opens an untapped frontier of advanced safety and performance features for autonomous and traditional driving.
Our SbW with Stowable Steering Column recently received a 2022 CES Innovation Award in the "Vehicle Intelligence & Transportation" product category, and was also honored by Automotive News as a 2021 PACEpilot Innovation to Watch.
The CES Innovation Awards program, owned and produced by the Consumer Technology Association (CTA)®, is an annual competition honoring outstanding design and engineering in 27 consumer technology product categories. The Automotive News PACEpilot program recognizes post-pilot, pre-commercial innovations in the automotive and future mobility space. These represent product, software/IT system or process and idea incubators that have the potential to revolutionize an automaker's business.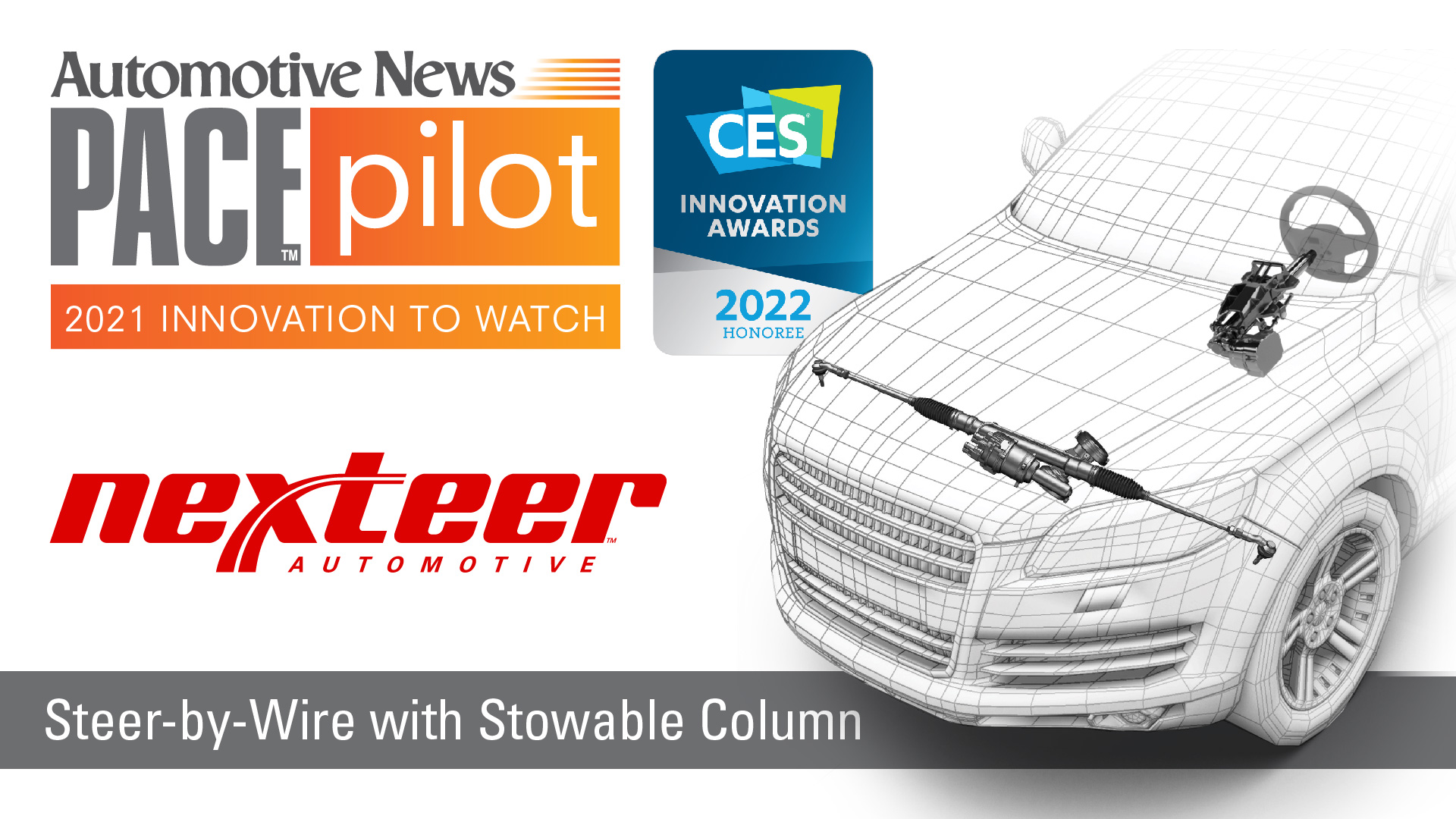 Our award-winning combination of SbW with Stowable Steering Column is poised to transform the future of mobility by supporting OEM needs across industry megatrends like Electrification, Autonomy, Mobility-as-a-Service and Software / Connectivity.
A Unique Combination of Game-Changing Technologies
SbW replaces the mechanical connection between the handwheel and roadwheels with algorithms, electronics and actuators. SbW opens the gateway to benefits that are not achievable with traditional steering solutions. SbW can enhance stability control, reduce braking distances, and is a preferred enabler for Park Assist and Automatic Emergency Steering (AES). Nexteer's software experts also tailor SbW's steering feel and responsiveness (from luxury to sporty) and can customize steering feel to an OEM's brand. SbW's variable steering ratio further enhances maneuverability in various driving scenarios (tight parking lots vs. highway driving, for example), as well as factors into our steering-feel achievement.
Our Stowable Steering Column utilizes custom-designed software and electronics that allow the steering wheel to be retracted into the dash and away from the driver when not in use. Our Stowable Column also provides innovative solutions for crash safety, with ASIL-D steering column positioning.
When paired together, SbW with Stowable Column opens a new world of cockpit design options and changes how drivers can use their vehicles – creating the opportunity for OEMs to re-invent and re-purpose the driver's cabin space. When SbW is coupled with a Stowable Column during automated driving, additional space is created for the driver to engage in other activities. This technology can also be used for traditional driving vehicles. When the vehicle is in park, our Stowable Column can extend the usable space in the vehicle cabin, creating a more spacious office-on-wheels.
Providing a Fully Immersive Aesthetic for What Drivers See, Feel & Hear Behind-the-Wheel
Nexteer's SbW provides the "right" feedback to the driver for all driving situations and road conditions through our sophisticated controls, algorithms, software and software tuning expertise (from luxury to sporty feel range; from highway driving to tight parking lots; from gravel surfaces to icy surfaces, etc.).
Achieving this high level of steering feel and road feedback is impressive when you consider that this "feel" is actually emulated. In contrast, today's traditional steering systems are mechanically connected so steering feel and road feedback are communicated to the driver through the mechanical connection between the road wheels and the steering wheel.
Our SbW also ensures safety via real-time backups and fulfills strict safety requirements. It does this through our High Availability system that includes hardware and software redundancies.
Our innovative Stowable Column fits a longer column – up to four to five times greater stow distance – into similar packaging space as a traditional column. We achieved this via an innovative design solution that considers requirements for stow speeds, vehicle packaging and sound level.
Overall, the unique combination of these game-changing technologies addresses a fully immersive aesthetic considering what a driver sees, feels and hears behind-the-wheel – enabling new, advanced features for ALL forms of driving (Automated Driving Levels 0-5).