Software for Today's Advanced Steering Systems
Within the industry, there's a lot of conversation about the role that automotive software will play to enable autonomous vehicles of the future. But what often gets less attention is the important role that software is playing right now in today's vehicles – especially when it comes to steering's advanced safety and performance features.
From a safety perspective, steering software plays a crucial role in enabling today's advanced driver-assistance systems (ADAS) like park assist, lane keeping, lane departure warning, traffic jam assist and more. Software uses multi-path processing to ensure that the steering safety net is always on. For the end user that guarantees that failures within the system lead to a safe state or can even be transparent.
On the performance side, steering software can customize a vehicle's steering feel to be unique to that OEM or brand (for example, it's what makes a BMW feel like a BMW).
As a global steering specialist, Nexteer is at the leading edge of steering software for today and tomorrow. We do this through our integrated approach to product development and our global team of software experts.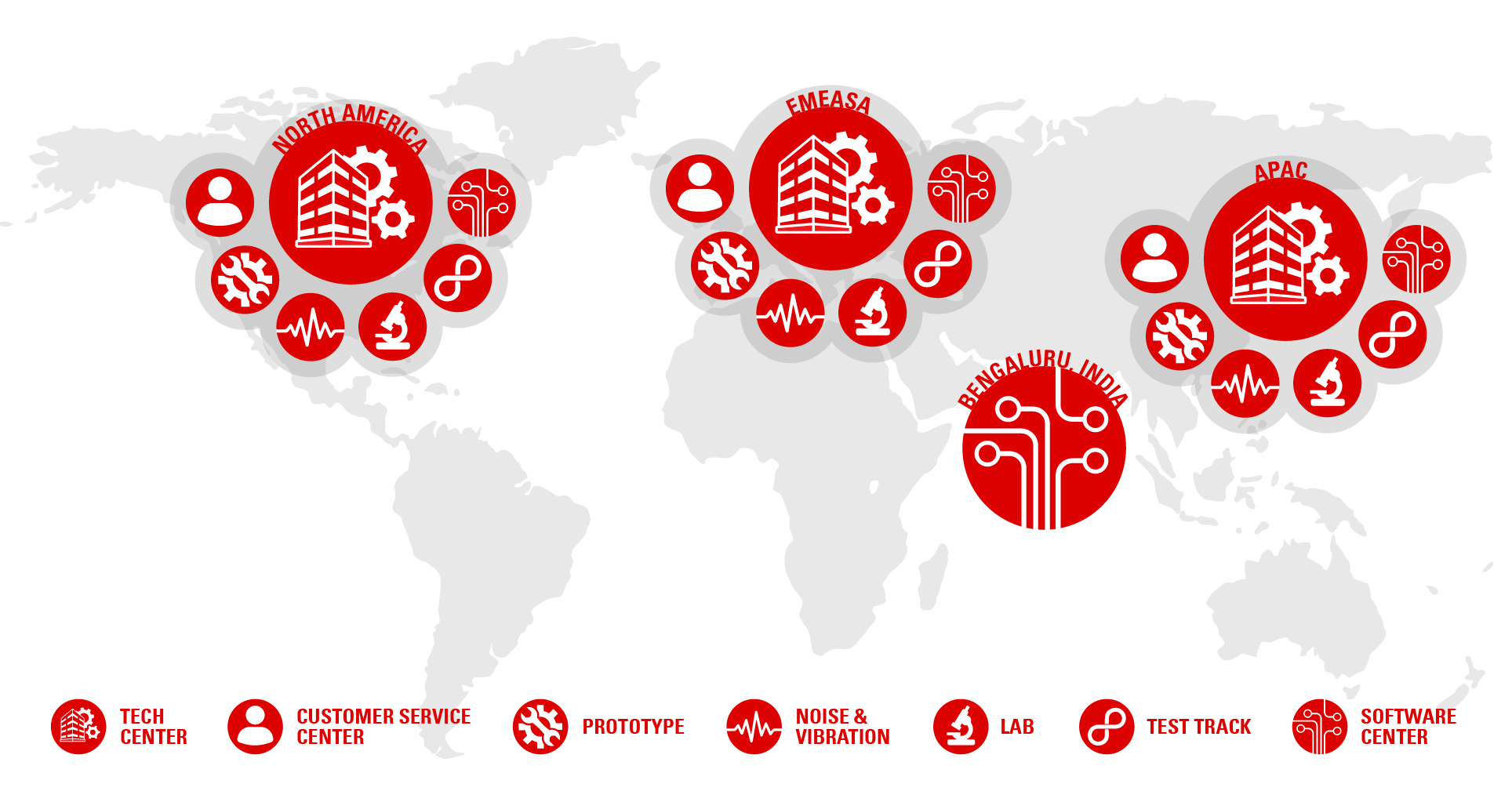 Software & Hardware: Our Integrated Approach to Product Development
Our global product development team's integrated approach focuses on excellent mechanical design AND high-quality software integration. This integrated approach has led to advancements throughout the product development lifecycle, including:
Advanced innovation and feature development
Efficiency in product design, development, validation and manufacturing
Development of more complex code to enable advanced steering features
Fortified cyber security through secure links and steering command validation
With concurrent development of both hardware and software, our steering solutions work together to seamlessly connect the driver with the road – accounting for both driving dynamics and the operating environment. This "connection to the road" is what provides the driver with an experience consistent to the vehicle's brand (such as luxury, sport, etc.), while also giving important safety cues regarding the road surface the driver is traveling on (such as icy, gravel, etc.).
Software Expertise: Our Global Team Across Regional Locations
Our team of software experts across four global locations collaborates and drives operational excellence into our software development process. Nexteer engineers in the U.S., China, Poland and India work as one team to develop, validate and launch production intent software – ensuring quality and compliance while continuing to develop new features with our customers.
And this global team continues to grow! Just 10 years ago, we were primarily a mechanical company – with 21% of our engineering competency dedicated to systems, software and electronics. Today, we've transitioned to nearly half of our technical talent focused on software, systems and electronics. The shift in our global team mirrors the shift of stronger software focus in the automotive industry.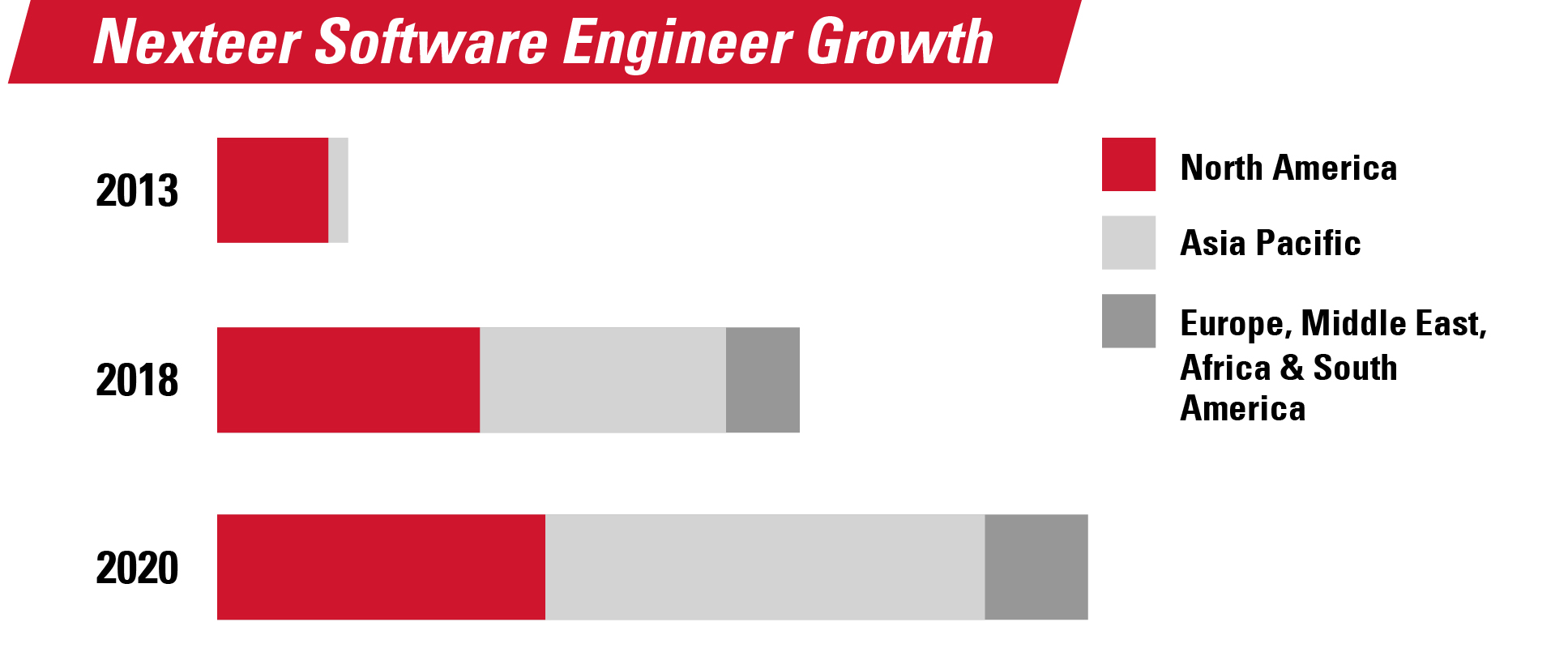 One of the ways we've grown our global software team is through the opening of our India Software Center (ISC) in early 2019. The 200 software engineers at our ISC focus on high quality processes creating production intent software. They collaborate seamlessly with colleagues at our Global Technical Center in the US and Regional Technical Centers in Poland and China, who focus on software development and innovation. Together, this global team delivers innovative solutions with quality, speed, flexibility and seamless vehicle integration.
Software Innovations for Today & Tomorrow
Today's vehicles count on software to ensure they are performing at the highest level while keeping drivers safe and secure. We are committed to providing our customers with high quality, innovative software solutions to meet all of the challenges they face.
Looking ahead, we continue to work with our customers on steering software innovations to enable advanced safety, security and performance features. This is critically important as today's hardware-defined cars are rapidly transforming into software-defined transportation platforms. Software will eclipse hardware as the main performance driver as OEMs try to create brand image.