Steer-by-Wire: Electrification & the Convergence of Megatrends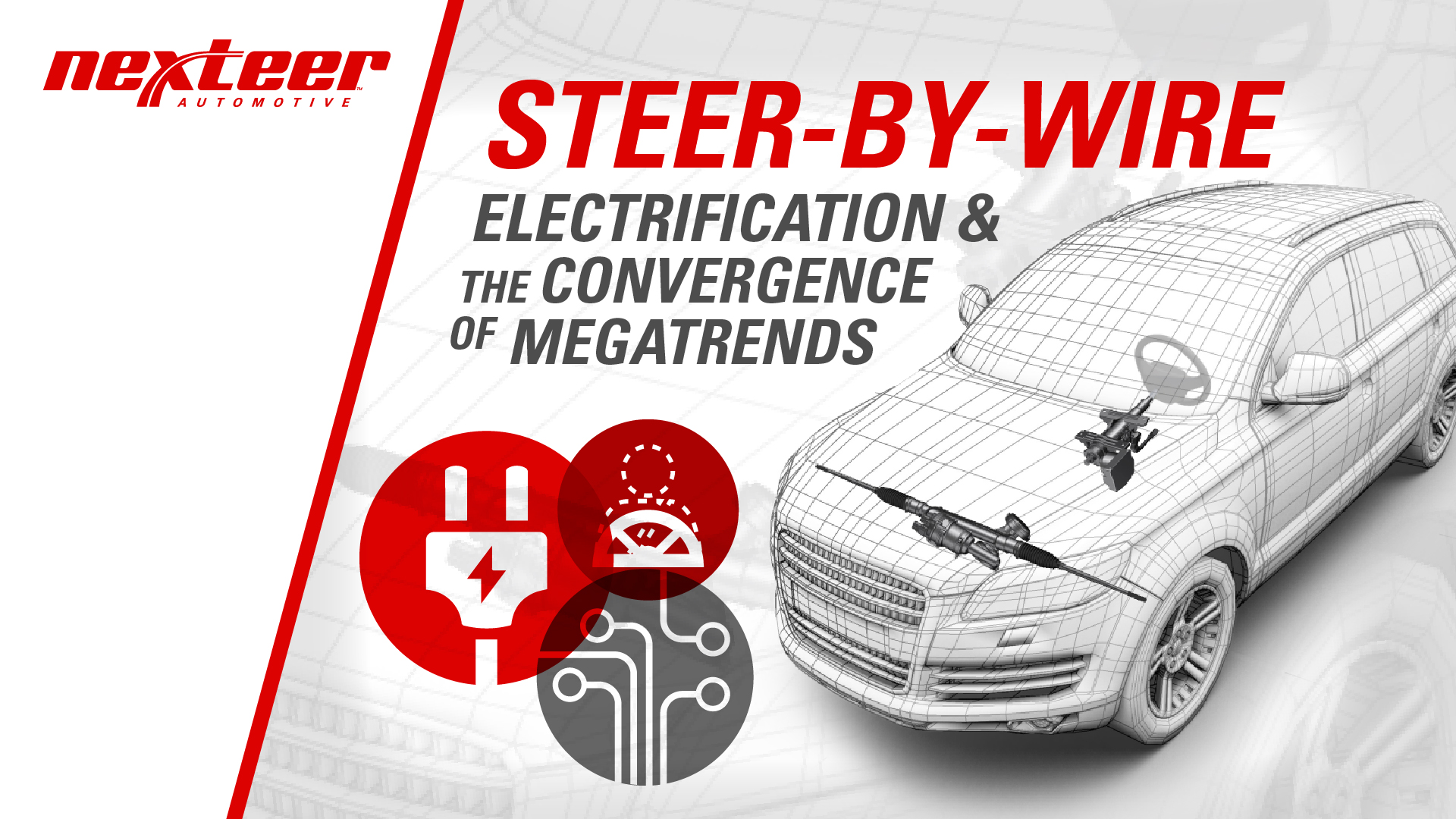 In the fast-changing automotive industry, the Electrification trend is not occurring in a vacuum. As more vehicle models move to electric versions, they are also adopting new software, connectivity and assisted and automated features for advanced safety and performance.
As the center link of Nexteer's advanced steering suite, Steer-by-Wire (SbW) plays an important role in enabling each of these industry megatrends.
Take Electrification as an example: Revamping vehicle platforms for electric vehicles (EVs) could provide OEMs with an opportunity to reimagine the vehicle and introduce the latest technologies – such as SbW. This would help OEMs appeal to consumers with user-friendly technology and help differentiate them in the race to Electrification leadership.
SbW is a key enabler of the assisted and automated driving features that EVs of today and tomorrow will include. SbW leverages our advanced steering software to provide the baseline for other ADAS and AD enabling technologies such as Stowable Steering Columns, Quiet Wheel™ Steering and Steering on Demand™ Systems, as well as enabling advanced cyber security and connectivity solutions.
Flexible Packaging Redefines the Cockpit & Underhood Space
In a traditional steering system, there is a mechanical connection line from the steering column to the steering gear with geometric limitations. This requires the steering system to compete for the same valuable space as many other critical vehicle systems. By replacing the mechanical connection between these components with algorithms, electronics and actuators (as is the case with SbW), the need for this mechanical connection line is eliminated – thus offering greater design freedom for locating the steering components and yielding space back for use by other systems.
In addition, Nexteer's SbW paired with our Stowable Steering Columns can open up a new world of flexible cockpit design options and redefine the behind-the-wheel driver experience for traditional and all levels of automation.
Standardization of Cross-Platform Components: Cost- & Time-Savings
In addition to packaging flexibility, SbW creates new possibilities for efficiency through parts standardization for automakers. Today, different steering ratios within a single vehicle platform require different steering system designs and different steering gear (physical hardware). With SbW's variable steering ratio, Nexteer uses software and algorithms to systematically adjust steering ratio and optimize performance – without the need for multiple steering gear sizes. As a result, OEMs get a tailored steering feel while standardizing and reducing part numbers.
Without a mechanical connection to the steering wheel, SbW further reduces the need for multiple part numbers by enabling automakers to use the same parts for both right- and left-hand drive vehicles across different regions.
Enabling A New Era of Safety & Performance for EVs & ICEs
Nexteer expects SbW to become the future, dominant steering technology for both EVs and internal combustion engine (ICE) vehicles because it opens new possibilities for safety, performance and packaging enhancements.
On the safety side, SbW enhances stability control, improves braking distances, and enhances automatic emergency steering (AES) and other features. On the performance side, Nexteer's software experts tailor the steering feel and responsiveness (from luxury to sporty) and even customize steering feel to an OEM's brand.
There is no shortage of innovation at this exciting time in our industry as these megatrends converge to shape the future of mobility. At Nexteer, we are looking forward to the advancements to come with these trends and for the opportunity to help OEMs bring new levels of advanced safety and performance to EV drivers and driverless vehicles around the world.