Our Vision for a Safe, Green & Exciting Future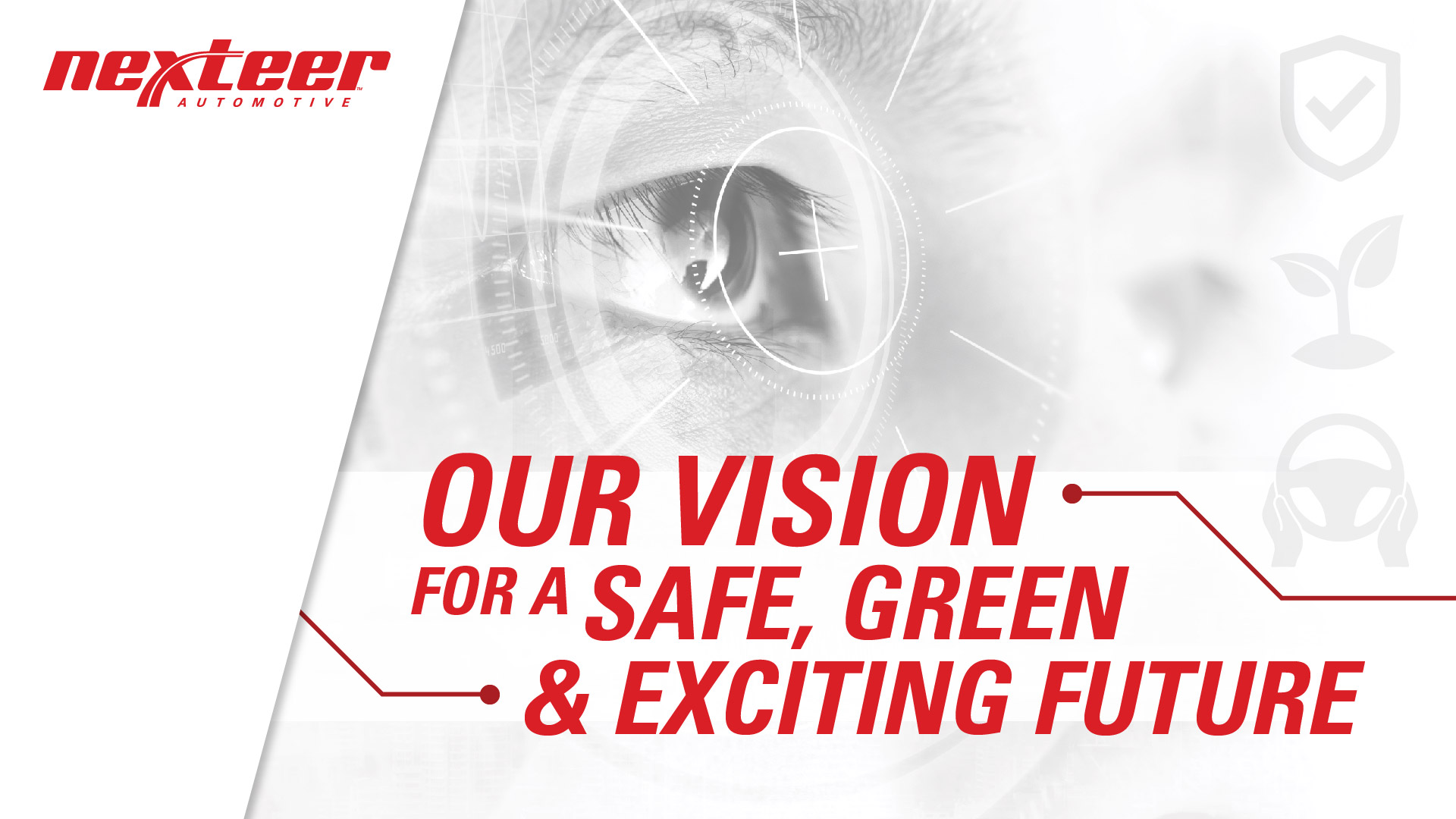 As we close 2022 and look back over the last few years, the scope and pace of change in our industry – and our world — has accelerated in the midst of many unforeseen challenges.  Looking ahead, we know that this pace and scope of change will continue to accelerate and evolve every aspect of mobility and many other areas of our daily lives. Consequently, we took this opportunity to pause, reflect and reimagine what the future might hold – and in doing so, reassess the vision that guides Nexteer's future.
Earlier this year, we redefined our company vision to challenge, inspire and guide who we want to be as Nexteer Automotive. Our new Vision is to be the global leading motion control technology company accelerating mobility to be safe, green and exciting.
This is a bold statement — a call to action on multiple fronts. It's a challenge for our team to innovate relentlessly, build on our century-old heritage while anticipating and adapting for the needs of the next century in growing our business and our people – professionally and personally. As One Nexteer, this vision guides us every day, and we're making it a reality by challenging the impossible and differentiating ourselves through our culture, product quality and performance, innovative technology portfolio, mobility megatrend alignment and more.
Putting safety first – always
As an innovator in safety-critical technologies that touch the lives of millions around the world every day, health and safety remain our number one priority at Nexteer whether on the road or in the workplace.
In our development, testing and manufacturing of motion control technologies, our vision guides us to connect our unique skills, expertise and competitive advantages with the megatrends shaping the future of the automotive industry. From electrification to automation, connectivity and the software-defined vehicle, our advanced steering and driveline technologies will play a critical role in the changing world of mobility. As these megatrends continue to evolve, our technologies will deliver advanced safety and performance for both OEMs and drivers.
The concept of safety has also expanded in recent years. In our facilities, we continue to operate in accordance with our comprehensive Safe Work Playbook, which was developed in response to the COVID-19 pandemic to enhance our already strong employee health and safety protocols and procedures across all our global locations. It is continually updated based on employee feedback, government regulations and industry best practices to ensure the health and safety of Nexteer employees across the globe.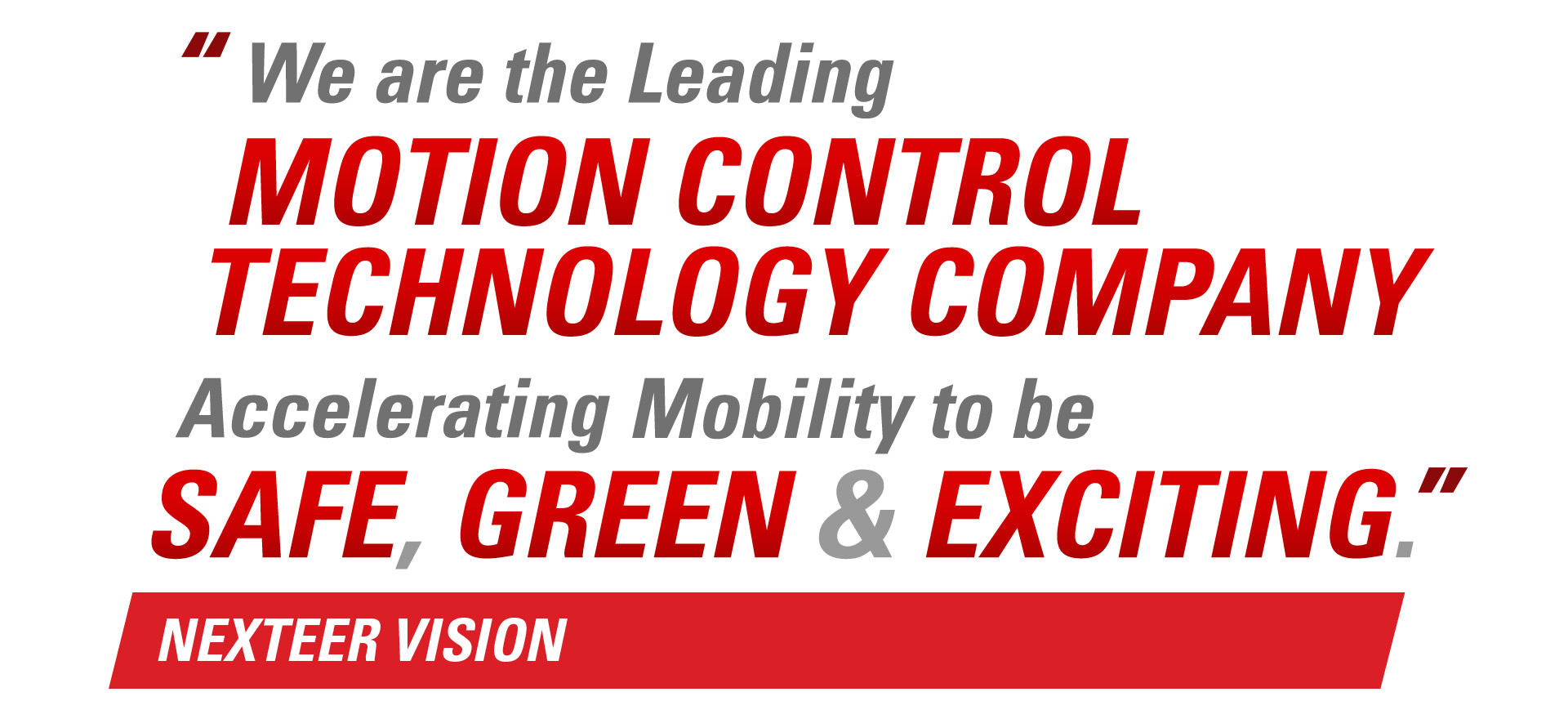 We also define safety in terms of employee well-being and a culture wherein it is not only safe but encouraged to challenge the status quo. This is critical for success in our dynamic and rapidly evolving industry – capitalizing on the creative problem solving, ingenuity and enhanced decision-making that comes with along with these approaches. As a global company, we operate in numerous countries and cultures around the world. We value the diversity and rich experiences this brings to our One Nexteer culture. In 2022, we launched our Diversity, Equity and Inclusion (DE&I) program, RISE, and we continue to further define parameters of the program and explore ways to make a greater impact.
Developing exciting solutions to complex challenges
Automotive technology is breaking through to exciting, new places, and our vision guides us to focus on helping our OEM customers solve their complex mobility challenges, simplify life and connect people in new ways. Our commitment to relentless innovation and customer collaboration enables us to pursue new ways to enhance vehicle safety, performance and convenience.Our robust product portfolio – including our award-winning Steer-by-Wire with Stowable Steering Column, high-output electric power steering systems, high-performance driveline technologies and innovative steering software solutions, among others – allows OEMs to reinvent the "behind-the-wheel" experience and open an untapped frontier of advanced safety and performance features for all vehicle types – from cars to heavy-duty trucks, ICEs to EVs.
And beyond our current product portfolio, Nexteer's global R&D and product teams continue to explore new ways to further capitalize on megatrends and offer innovative solutions to OEMs' evolving product challenges.
Creating a cleaner, greener future
As the automotive industry changes, a sustainability-focused mindset is driving many megatrend-aligned innovations in electrification, fuel efficiency, advanced safety and more. Our vision guides us to make a positive impact on our industry and the communities where we do business – including helping create a cleaner future through sustainable manufacturing and designing for a zero-emission world.
At Nexteer, we encourage all employees to embrace sustainability, and we empower every one with the freedom to explore, understand, suggest and continue to improve how we make tomorrow better than today.
Our commitment to sustainability has been recognized by Newsweek as one of America's Most Responsible Companies for the last three consecutive years, as well as documented in our annual sustainability reports. We continue to build on this foundation with environmental, social and governance initiatives that create value for our customers, neighbors and society overall.
As a leader in intuitive motion control, our vision of accelerating mobility to be safe, green and exciting is what guides us as we innovate together to write the next 100 years of our history.