Improving the Driver Experience Through Connectivity & OTA Updates
In recent years, global automakers like Tesla, Ford, GM and others have adopted an approach to vehicle updates that's familiar within the computer and smartphone industry – over-the-air (OTA) software updates. OTA updates are enabled by cloud connectivity and allow drivers to download new vehicle features from an app store – just like adding a new app to their phone.
With OTA updates, a vehicle can stay in contact with its environment, the vehicle owner and the manufacturer to drive continuous innovation over the lifetime of a vehicle. This means introducing new content and features doesn't have to stop at the end of the production line – they can be introduced to vehicles already on the road, helping automakers strengthen brand loyalty and enhance the driver experience.
Connectivity for Advanced Steering Systems
A key benefit of OTA updates is that automakers can adjust or add features and functions throughout the vehicle's life span – all without a trip to the dealership for service or maintenance.
For advanced steering systems, these added features could include updates to drive modes (such as adding a sport or luxury driving style and steering feel) or updates to advanced driver assistance system (ADAS) functions like park assist, traffic jam assist and more.
Increased vehicle connectivity also creates new opportunities to introduce advanced steering safety features. For example, with vehicle-to-vehicle (V2V) and vehicle-to-everything (V2X) communications, vehicles can evaluate signals from the steering system, brakes or other chassis components to determine road conditions and identify potential hazards such as icy or wet roads. These signals can be communicated to trailing vehicles via the cloud to warn them of an upcoming hazard. With this data, advanced motion control software will be able to anticipate the safest lateral and longitudinal maneuvers in a given situation.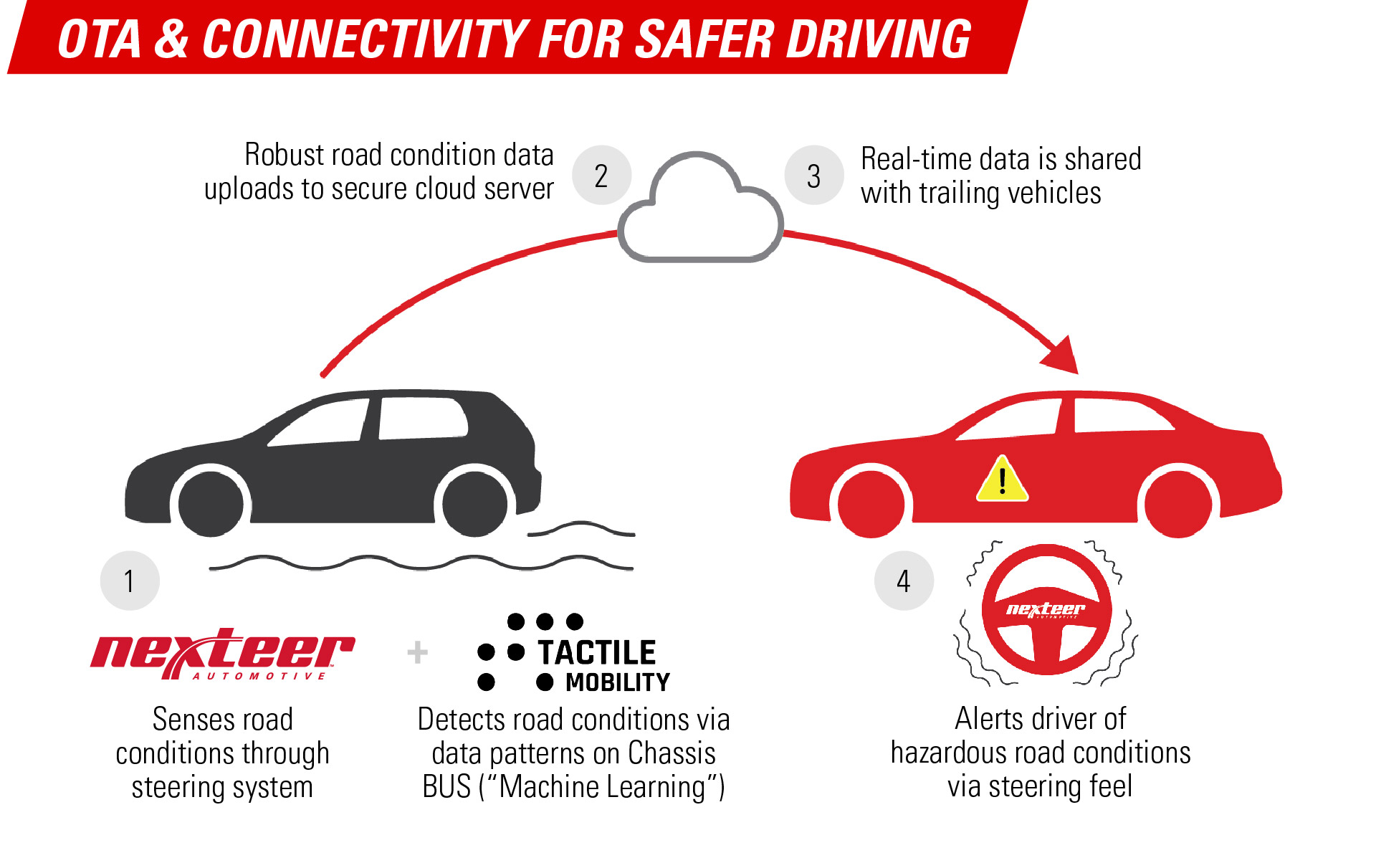 Driver warning systems are just one example of many new real-time safety functions enabled by increasing vehicle connectivity. Overall, the continuous data streams flowing to and from connected vehicles will lead to a more well-informed motion control system.
Extending the Platform Life Span
Connectivity, OTA updates and software also create new possibilities for automakers to extend platform life spans,  while also introducing more frequent technology and model "refreshes" that don't have to wait for a mid-cycle enhancement or all new vehicle launch.
For example, some current vehicle platforms are planned to be in use for more than 10 years, with upgrades planned throughout their life spans. With shortened upgrade cycles, automotive hardware has a longer life, and innovations largely come in the form of software updates – just like in your smartphone.
OTA updates allow component manufacturers to continue to produce the same systems for longer, but with the added option of updating and upgrading features and functions through software.
Partnerships Driving Connected Innovations
OTA updates and connectivity are a key focus of our partnership with a leading tactile virtual sensing and data company, Tactile Mobility. Tactile Mobility's software collects data using vehicles' built-in, non-visual sensors including wheel speed, wheel angle, RPM, paddles position and gear position and analyzes it to yield actionable insights in real-time. These insights provide a clear-cut, highly accurate description and analysis of the continually evolving state of vehicles, roads and vehicle-road dynamics.
Nexteer's collaboration with Tactile Mobility is a perfect complement to our existing global software business model and focus on motion control software. With our combined expertise, we look forward to further expanding our software offerings that maximize OTA updates and connectivity for even safer, more reliable driving.
Advanced software is creating endless opportunities for future vehicle features through OTA updates, crowd sourcing and V2X communications. These will provide drivers with advanced safety and performance benefits and challenge automakers to differentiate themselves and make their brand stand out. At Nexteer, we are excited about the future of the software-defined, connected vehicle and the opportunities it provides to continually advance safety and enhance excitement in the driving experience.