Advanced Steering and Driveline Technologies for Electrified Trucks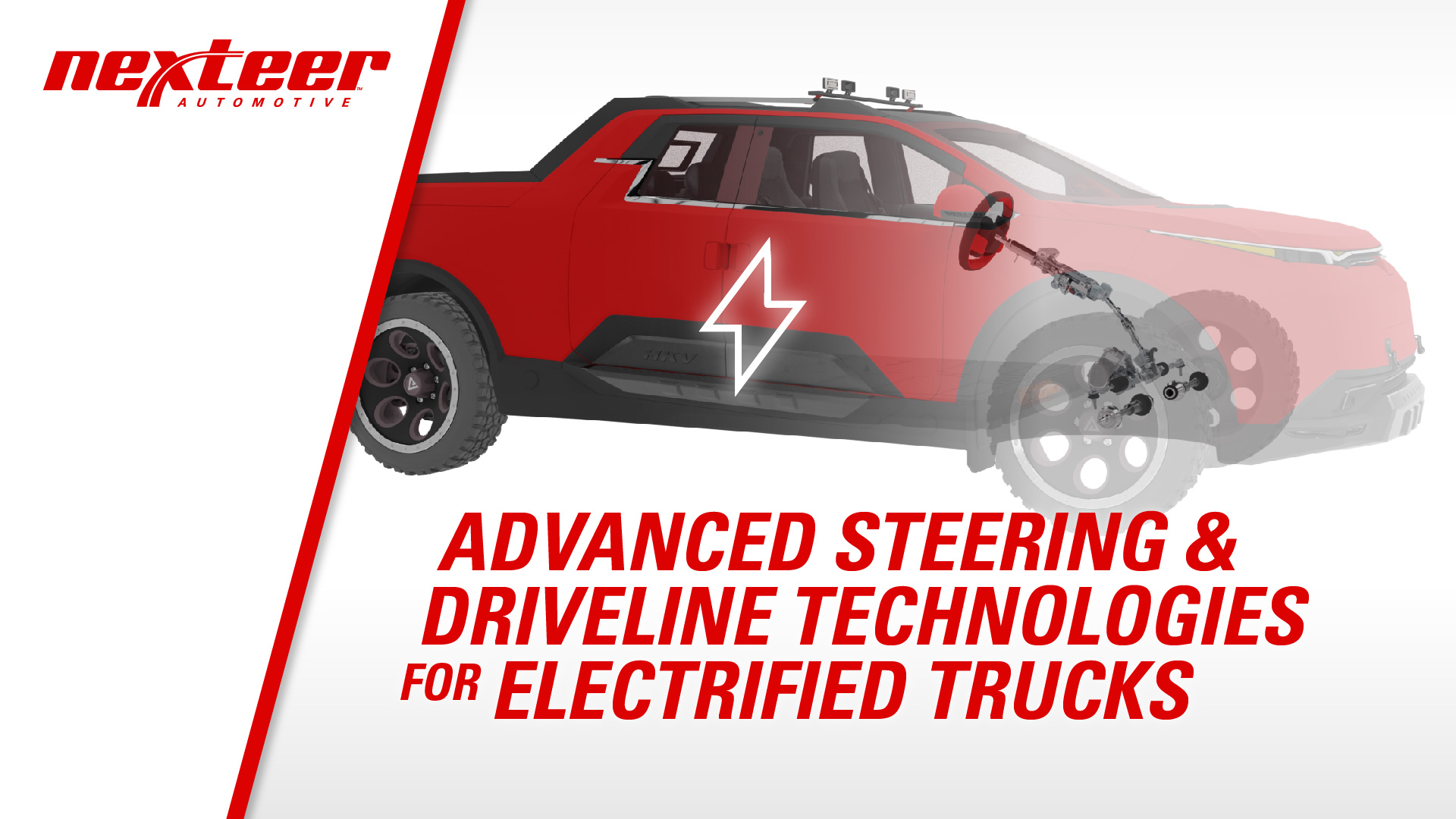 Automakers are continuing to move toward an electrified future, and as many plan to launch electric versions of their flagship trucks and SUVs in the coming years, the larger vehicle segments are not being overlooked. According to Forbes, new trucks are outselling new cars at a record pace of more than three to one, with the light truck segment (which includes pickups, SUVs, crossovers, minivans and some smaller delivery vehicles) accounting for approximately 75 percent of all new vehicle sales in 2021.
At Nexteer, we're proud to have a proven track record of innovations specifically tailored for the truck segment, steering 9 of 10 trucks in North America. Now, our technology is helping automakers make the transition to electric versions of their popular full- and mid-size truck platforms, while maintaining their unique steering feel and performance for drivers. All of our steering and driveline product lines are featured in the GMC Hummer EV, which started production in December 2021, and yet another leading truck brand with an EV version that will launch soon.
EPS Solutions for High Front-Axle Loads
Both the Hummer EV and the soon-to-launch truck EV feature our High-Output Rack Assist Electric Power Steering (HO REPS), designed to handle the higher front-axle loads common in heavy EVs and optimize packaging space for added flexibility. While our REPS system steers 9 out of 10 trucks in the United States, HO REPS nearly doubles the steering load capability to accommodate electric variations of already heavy vehicles such as pickup trucks. These HO REPS systems are also helping to usher in advanced technologies for electric trucks by enabling the advanced safety and performance features that drivers expect, such as lane keep assist, crosswind compensation, trailer and backup assist and more.
Steering Columns for Flexibility in Battery Placement
Advanced steering column technologies also play a role in the electrification of the truck segment. Typically, batteries in electric vehicles are placed in a low, central location in the front of the vehicle to optimize vehicle ride and handling characteristics. However, this placement can interfere with the area where the intermediate shaft traditionally connects the steering column to the steering gear. At Nexteer, we created an intermediate shaft that reaches around the battery, maintaining a space for EV batteries while providing excellent steering control.
In future vehicles, our Steer-by-Wire technology may further improve packaging flexibility by replacing the mechanical connection between the steering wheel and road wheels with sensors, algorithms and actuators. Furthermore, SbW will also offer tailored steering feel experiences as well as increased design freedom, both under the hood and in front of dash.
Driveline Solutions for Electrification
While traditional internal combustion engine vehicles often use a variety of driveline technologies, EVs rely primarily on halfshafts to transmit torque from electric drive units to the wheels. Both the Hummer EV and the soon-to-launch truck EV use our halfshaft solutions, which are quiet and lightweight, making them ideal for heavy electric vehicles. Through specialized joint types, our driveline solutions also offer superior noise, vibration and harshness (NVH) performance, which becomes even more important for driver comfort in quieter EVs. Finally, halfshaft designs meet expanded fatigue requirements due to increased torque and regenerative braking needs in EVs.
As trucks continue dominate the American market, we're working hard to make sure our steering and driveline technologies are supporting their shift to electrification, enabling a future that's safer, greener and higher-performing for both automakers and drivers.