Innovative Solutions for Future Steering System Challenges
Exciting new vehicle technologies like battery powered drivetrains, advanced driver-assistance systems (ADAS) and autonomous operation are creating unique challenges for automakers and Nexteer as we design future steering systems.
Fortunately, many of these challenges can be solved with innovations in steering columns and intermediate shafts (CIS) – ultimately delivering improvements in performance, safety and passenger comfort.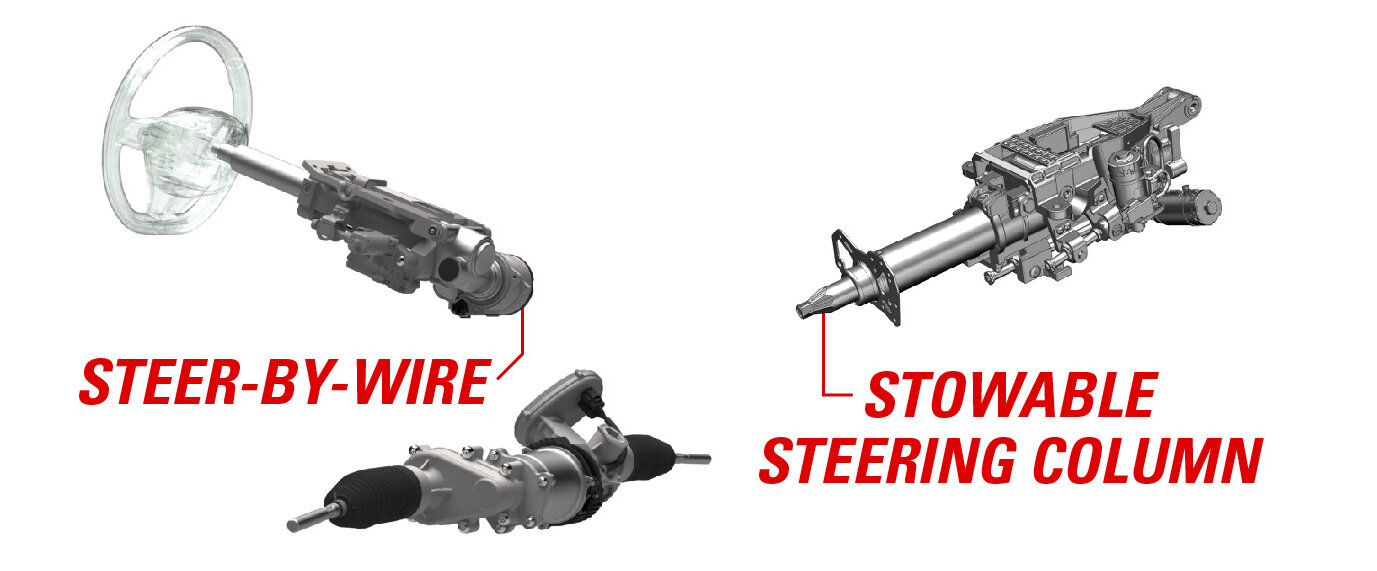 Innovations for Battery Electric Vehicle Designs
A key decision in designing battery electric vehicles (BEV) is battery placement. Generally, battery placement is central and low in the vehicle to optimize vehicle ride and handling characteristics. Often the forward edge of this central, low battery placement blocks where the intermediate shaft (I-shaft) would traditionally bridge between the steering column to the steering gear. These components are important because they connect the driver to the vehicle while also playing a critical behind-the-scenes safety role during a crash.
To overcome this obstacle in BEVs, one solution is to find a way for the I-shaft to reach over the forward edge of the battery. Nexteer engineers' first inventive solution is to apply an I-shaft with a proprietary high angle joint. With angles capable of up to 62 degrees, this I-shaft high angle joint reaches over (the battery) and provides excellent steering control. This solution also can be applied to overcome other fuel-efficient, hybrid vehicle powertrain packaging challenges.
The second solution in the foreseeable future is to eliminate the I-shaft as Steer-by-Wire (SbW) is applied. Here the mechanical connection between the hand wheel and road wheels is replaced with sensors, algorithms and actuators. SbW not only solves the issue of circumventing battery packaging but it also isolates the passenger compartment environmentally and during a severe crash. Vehicle assembly becomes simplified as the hand wheel and road wheel actuators are completely modular.
Stowable Columns for Automated Driving and Additional Comfort
In fully autonomous SbW scenarios, our Stowable Steering Columns can enhance comfort and performance by re-defining the "behind-the-wheel" experience for drivers. When a vehicle is in self-driving mode, our Stowable Steering Column can retract into the dash to give the driver more cabin space. The driver can use that additional space for a rolling personal office, reading a novel, grabbing a quick bite to eat or simply enjoying some additional comfort. This technology can be just as useful in today's vehicles when they're parked – providing a "third living or workspace" in the cabin for other activities.
History of Advanced Safety and Performance
With each of these innovations, Nexteer maintains its commitment to delivering advanced safety and performance for automakers and drivers. With more than 300 million columns supplied to date, our advanced CIS systems help protect drivers around the world.
CIS solutions like adaptive energy absorption play a critical, behind-the-scenes safety role in occupant protection. This technology processes information including crash severity, vehicle speed, driver position and seat belt use in real-time to deploy a life-saving sequence in the event of a crash.
Software also plays a role in providing safety and security features in our CIS technologies, such as memory recall for power column position and electric steering column locks for intelligent anti-theft systems.
With Nexteer's proven CIS portfolio and engineering experience, we work with our customers to embrace and solve their challenges which ultimately provides drivers with a safe and comfortable experience behind the wheel.