mCEPS: Delivering Flexibility, Safety and Performance for Economic Cars of the Future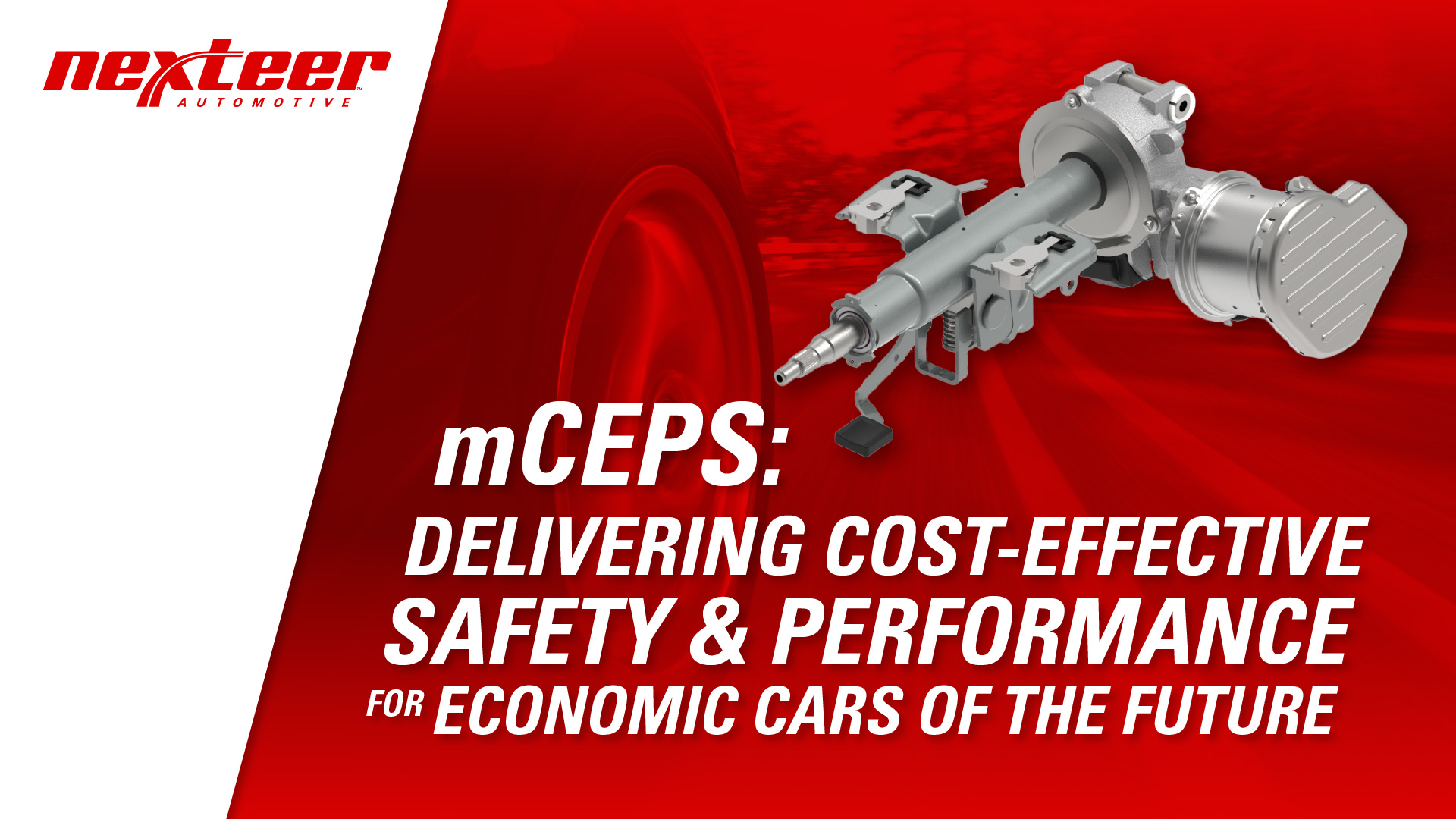 Today's electric power steering, or EPS, systems steer millions of vehicles of all sizes on roads around the world. Automakers and drivers experience the advanced safety and performance features of EPS systems every day, from parking assist and lane-keeping assist to an enhanced feel of the road behind the wheel.
As a leader in intuitive motion control, Nexteer offers a complete portfolio of EPS systems to meet the needs of passenger vehicles from sub-compact cars to full-sized trucks. In small and compact vehicle segments, Column-Assist Electric Power Steering (CEPS) is the preferred system due to its compact size and increased packaging flexibility.
To further support and advance performance and safety features in small and compact vehicles, we recently introduced our innovative Modular CEPS system (mCEPS), which leverages our steering software and hardware expertise to provide cost-efficient scalability and a modular-design.
Expanding Our Steering Portfolio for Economic Vehicles with mCEPS
The mCEPS system creates new possibilities for vehicle types that have used traditional CEPS systems in the past, including small and compact vehicles. With an innovative platform design and expandable electronic control system, mCEPS allows us to meet OEM customers' needs for an advanced, customizable steering system that is flexible to customer packaging and other requirements.
Developed to improve drivers' connection to the road, our mCEPS systems feature our high-performance torque and rotation angle sensors for outstanding noise, vibration and harshness performance and a smooth, accurate steering feel.
mCEPS Variations for Added Flexibility
Nexteer's mCEPS system is available in three models – Standard, Enhanced and Pro – to support various load capacities and other requirements.
mCEPS Standard – Supports Level 2 ADAS functions, with a cost-efficient design, integrated power pack for advanced safety and three options of torque assist.
mCEPS Enhanced – Supports Level 2 ADAS functions with two options of torque assist, and an enhanced controller and assist mechanism for advanced performance.
mCEPS Pro – Supports Levels 2 – 5 ADAS/AD functions, as well as over-the-air (OTA) updates and the enhanced cyber security requirements that come with higher levels of connectivity.
These variations enable automakers to provide drivers with more advanced steering functions in a safe, cost-effective way, including advanced driver assistance systems (ADAS), enhanced cyber security, customized steering feel and feel of the road. Leveraging our existing, industry-leading EPS building blocks, these variations of mCEPS provide a new solution that is re-configurable and customizable to the level of content required by the OEM.
Through innovations like mCEPS, Nexteer is continuing to enhance our steering portfolio with innovative products, to cost-effectively meet our customers' unique needs today and their future needs in an evolving mobility landscape.