Dual Pinion-Assist EPS: Growing Architecture for Electric & Sport Utility Vehicles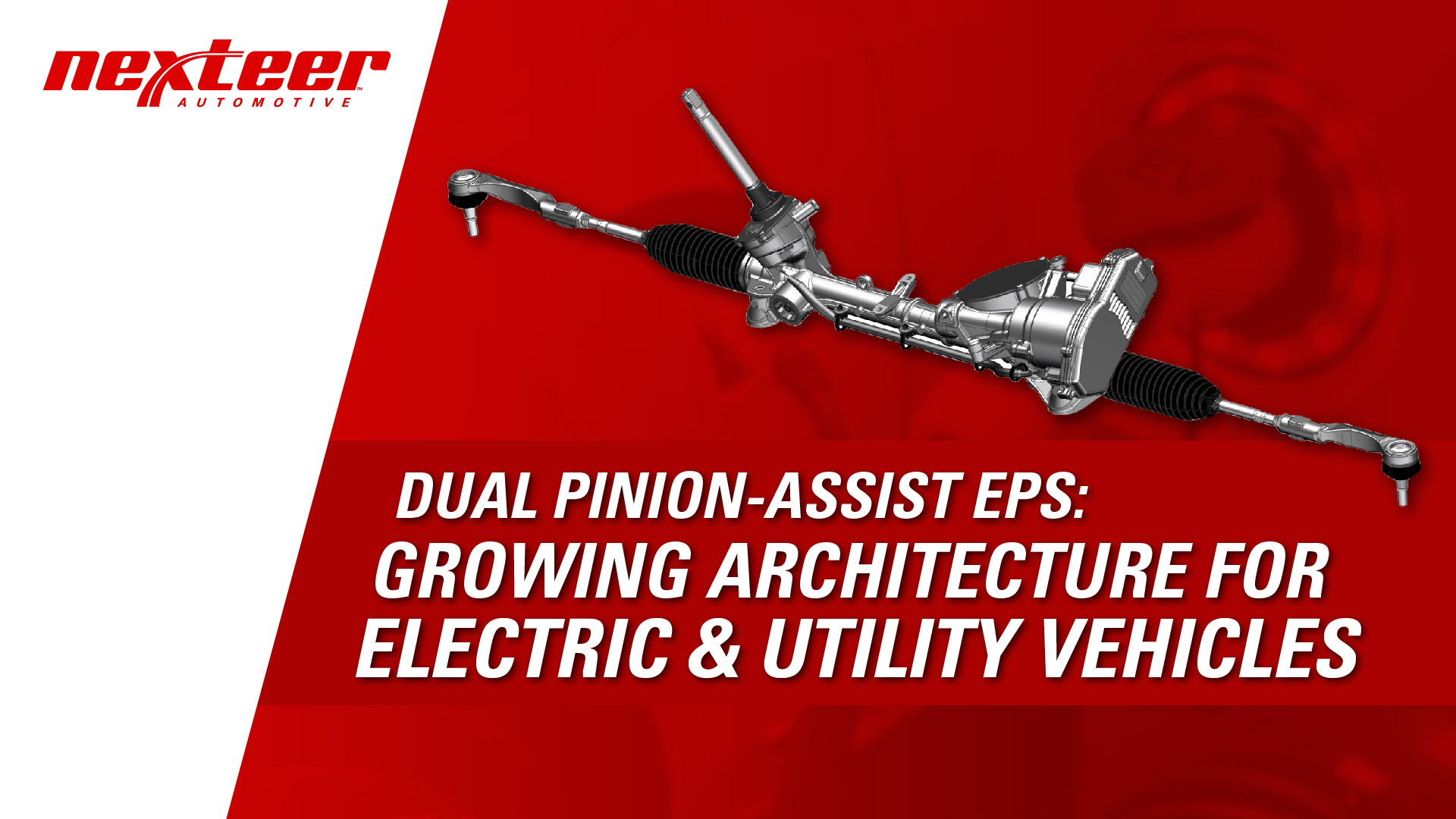 As consumers' vehicle preferences evolve, vehicle designs must adapt to support these changing needs.
With increased demand for electric and utility vehicles globally, suppliers are tasked with developing systems that can accommodate the vehicle's evolution, including increased weight of EVs and SUVs, advanced safety and performance features and more – all while building-in cost efficiencies so OEMs can successfully hit end-product price targets in a competitive market.
When considering steering solutions, Dual Pinion-Assist Electric Power Steering or DPEPS has emerged as a key technology – to compliment Rack-Assist EPS (REPS) – for the growing demand in electric and utility vehicles.
Growth of the DPEPS Market
As one of the world's fastest growing EPS architectures, DPEPS allows for the primary pinion to be optimized for vehicle dynamics and performance, while the secondary pinion is optimized for assist.
From a steering load capacity standpoint, DPEPS sits above Column-Assist EPS (CEPS) and Single Pinion-Assist EPS (SPEPS) and below REPS. DPEPS offers a flexible solution appropriate for a wide range of mid-size to large vehicles. Simply put, you can read this chart from left to right for steering solutions that steer small vehicles (left) to large vehicles (right).
In the past, DPEPS started as a niche market without significant vehicle volume. However, recently, two industry trends are creating a larger market for the DPEPS segment:
Electrification Trend: For EVs, the steering loads are typically higher than their internal combustion engine predecessors due to the added weight of their batteries – thus requiring a steering system that can handle the added weight.
Cost-Reduction Initiatives: For mid-sized SUVs and larger passenger cars that are on the lower output range of REPS, DPEPS provides a cost-competitive alternative to steering systems for these heavier vehicles. Furthermore, Nexteer's DPEPS provides a premium steering feel, driver comfort and superior handling – allowing OEMs to achieve cost-efficiencies without sacrificing the quality of steering feel and performance.
Nexteer Leverages EPS Leadership & Scale for DPEPS Market
Thanks to many global OEMs choosing Nexteer's SPEPS and REPS solutions, we are currently the #1 global supplier of both SPEPS and REPS systems. We have also developed DPEPS by leveraging our existing technology building blocks in both SPEPS and REPS – allowing Nexteer to fully address the market from low to high steering loads and everything in between.
With steering loads capability up to 14.5KN, Nexteer's DPEPS can steer loads higher than our competition – giving us a significant technical advantage. Our DPEPS technology is also cost-competitive because we can leverage our massive scale in SPEPS and REPS.
As an example of applying these technical building blocks with built-in scalability is Groupe PSA (now Stellantis) choosing Nexteer's DPEPS for their K0 2023 vehicle platform (a mid-size light commercial vehicle platform in Europe). This platform includes notable vehicles such Peugeot Expert, Citroen Jumpy and Opel Vivaro, among others.
As the industry evolves alongside consumer preferences, Nexteer takes pride in offering best-in-class steering systems that meet OEMs' shifting needs and deliver advanced safety and performance for millions of drivers around the world.