← Supplier Learning Center
SUPPLIER SUGGESTION CHANGE REQUEST – SSCR
Overview:
The Supplier Suggestion Change Request system is used to submit changes/request to direct material products/processes/or manufacturing location.
WORKFLOW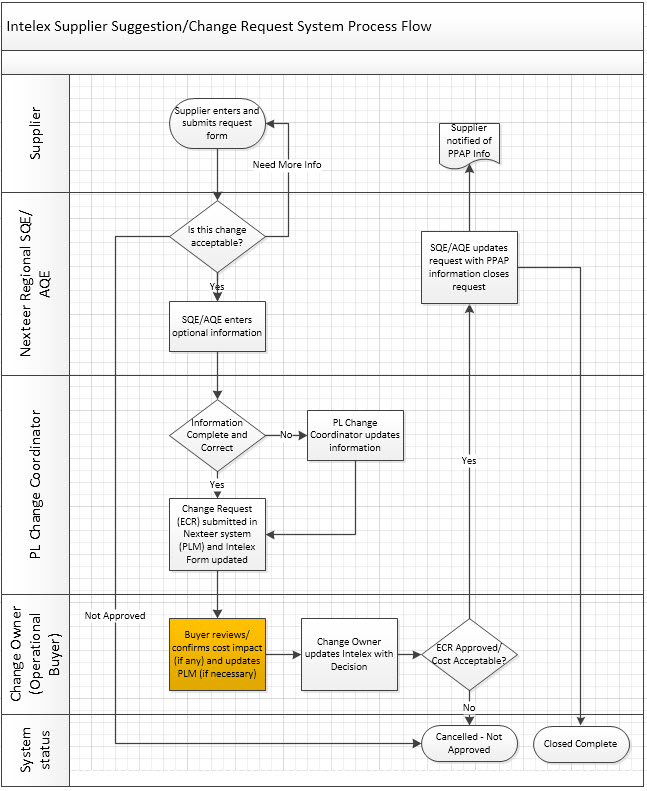 TASK SUMMARY
| | | | |
| --- | --- | --- | --- |
| Stage | Person Responsible | Task | Completion Timing |
| Draft | Supplier (originator) | Submit | |
| Nexteer Review | Nexteer Supplier Quality Engineer | Approved for CR Creation, Request Not Approved, More Info Required | 5 Days |
| More Info Required | Supplier Owner | Resubmit, Cancel CR | |
| ECR Creation Required | Nexteer Suggestion Admin | ECR Created | |
| ECR Created – Waiting for Decision | Nexteer Suggestion Admin | ECR Rejected, ECR Approved | 2 Days |
| PPAP Information Required | Nexteer Supplier Quality Engineer | Submit information to Supplier for PPAP | 5 Days |
SUBMITTING SUGGESTIONS/CHANGES REQUESTS
As a supplier you will need submit any suggestions or change requests using Intelex. This will also allow you to track the status of your request up to PPAP requirements. To submit a request, follow the steps below.
Start by selecting your correct location in the Location dropdown in the top right hand corner. This is the location your suggestion/request will be issued under. Note: the DUNS number is after the supplier name. If you do not have the correct location, click on your location name and pick from the list (if you have additional values available (not greyed out). If you do not then you may have to log into the correct location. If you need more info see general navigation – locations list
Select Supplier Suggestion Change Request from the Applications drop down under the location in the top right corner: This will take you to a view of your suggestions submitted for your location. (see general navigation – applications list)
Then select the Submit SSCR tab on the left. This will bring you to a new blank form for you to start entering the details. 
Complete the form fields and save. This will go to a Draft stage.
Note: Any field that has an asterisk is a mandatory field and must be filled in before you will be able to save the form. You may also notice some fields have already been auto populated and some will populate once you save the record. You will now notice that the workflow buttons are not available (greyed out). These will become available when you add at least 1 part as per the Action required task. 
Once you save the form you now need to add the part information to the suggestion/request.
To do this scroll down to the Part Information section and click Add Entry. 
A screen will be displayed for you to enter part specific information. Complete the form and Save. 
Step 6 notes:
The Part number will only contain parts that we show as having on contract with you, if you cannot find a part number there should be an Other option.
Select this and it will show 2 more fields for you to manually add part number and description: Also if you checked Cost as an option in the main screen in step 4, you will have some additional required fields to enter cost details. 
If more than one part is needed for this suggestion/request, repeat steps 5 and 6 for each additional part.
Once you have added your parts you now need to submit the request to Nexteer for review. To do this click on Submit. If you have made a mistake and no longer need this request/suggestion you can click the Cancel SSCR button. 
Your suggestion/request has now been submitted to the Nexteer Supplier Quality Contact for review. If it has been approved internally at Nexteer you SQE/AQE will communicate any PPAP information to you as the final step and close out the suggestion/request. If it is rejected during any of the Nexteer internal stages you will be notified via email of the rejection.
VIDEO LEARNING: SUBMITTING SUGGESTION/CHANGE REQUEST
Submitting Suggestion/Change Request – English
TRACKING THE SUGGESTION/CHANGE REQUEST
You may track your suggestions/requests throughout the process using the inventory view and clicking on the id of the request you want to view: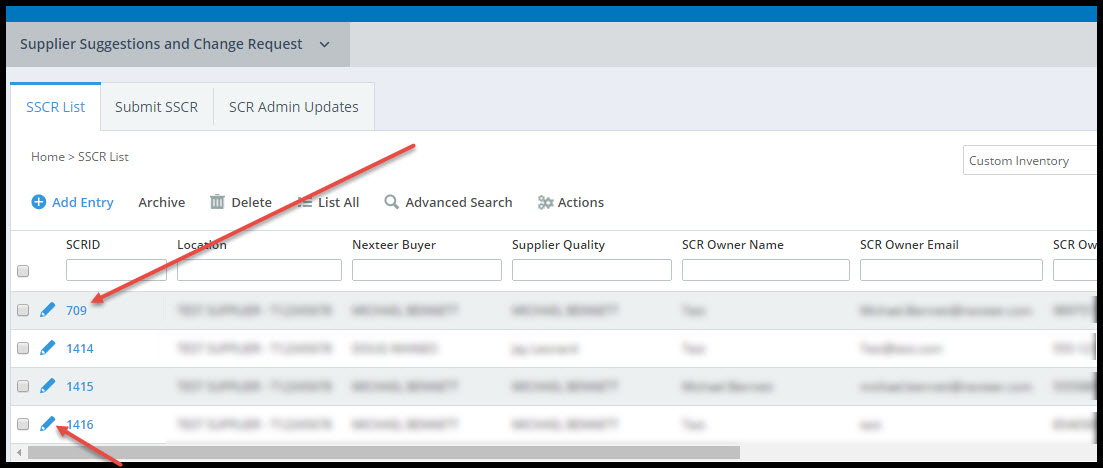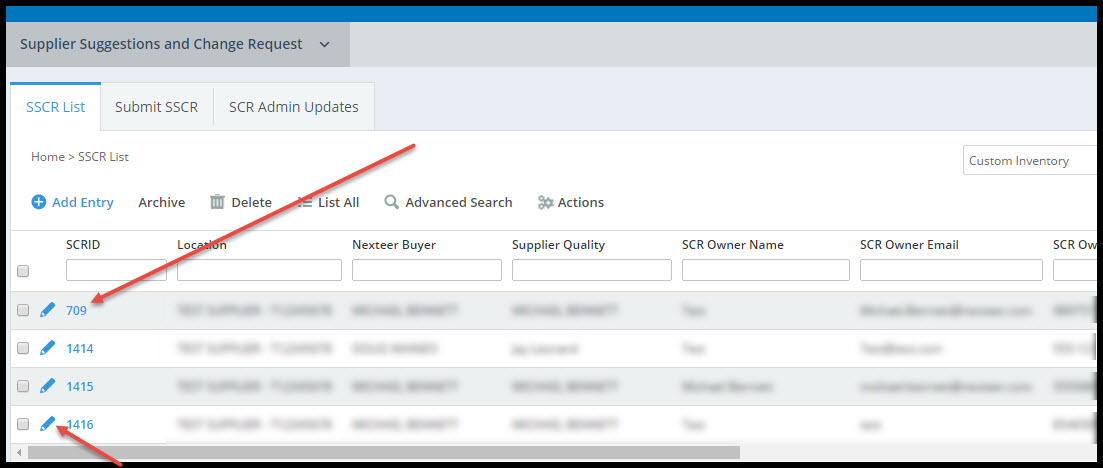 If there is a pencil icon next to the record in this view, which means you also may edit that suggestion/request.
This inventory view also shows you who the current owner is, status, and what the workflow stage is:


Click here for the printable version of these instructions.