← Hydraulic Power Steering
Magnetic Torque Overlay
Thanks to Magnetic Torque Overlay (MTO), drivers of heavy duty trucks can benefit from enhanced safety, comfort and ADAS features previously found only in lighter vehicles, such as:
Lane Keeping
Pull Compensation
Park Assist
Lane Departure Warning
Wheel Imbalance Rejection
Active Damping
Return to Center
And more…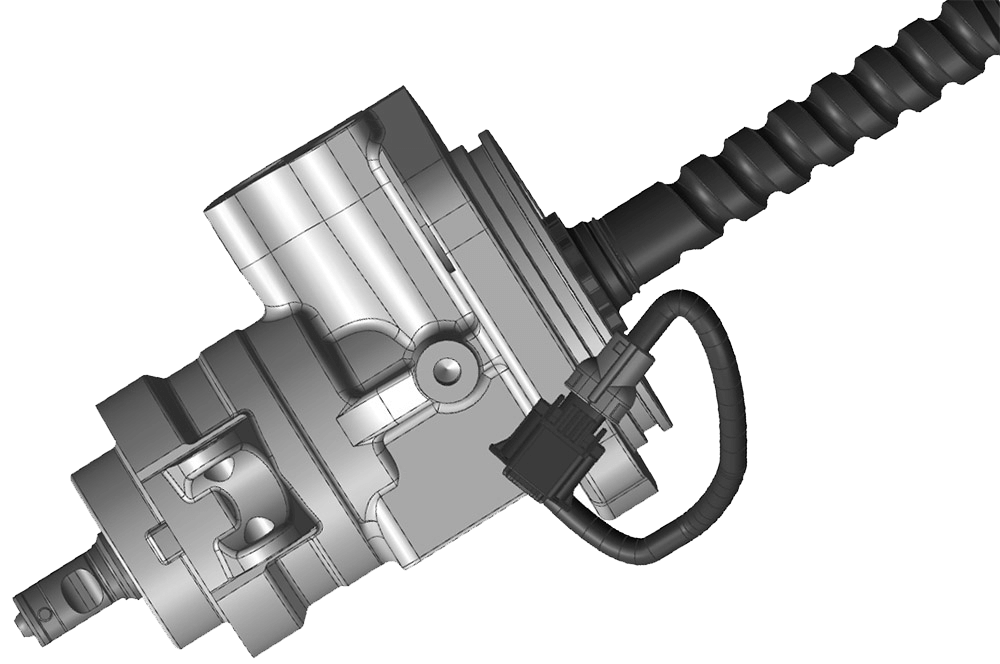 The Challenge
Electric Power Steering (EPS) systems are required for ADAS features while at the same time are unable to simply steer heavy duty trucks because of the heavy load outputs.
This conundrum created a void in the marketplace and confused end-customers on why some ADAS features are available on smaller, less expensive half ton trucks (using EPS systems) and not on larger, more expensive heavy duty trucks (requiring HPS systems).

Nexteer's Solution
MTO consists of an HPS gear equipped with an integrated electromagnetic actuator with additional pressure sensing hardware, an electric control module and additional software – thus enabling ADAS features as well as a highly tunable, premium steering feel.
MTO is accomplished with no additional sliding or contacting components, belts, gears, or motors, which can compromise steering feel and performance by adding friction or inertia.

So, with MTO you get...
Improved comfort, control and safety with less driver fatigue
ADAS features and greater value for heavy duty trucks (compared to light duty truck features and price points)
Reduced warranty costs, exceptional durability due to fewer moving parts and non-contacting magnetics to steer the gear valve
Better fuel efficiency when combined with SmartFlow
Scalability with minimal assembly impact – Due to its modular design, MTO overcomes the technology hurdle of ¾ ton trucks and offers technical capability to steer Class 6, 7 and 8 trucks and commercial vehicles.
All MTO-enabled functionality can be applied to both recirculating ball as well as rack & pinion gears.  The system also complies with ASIL D safety critical standards.