Nexteer Cares: A Culture of Giving Back to Communities Around the Globe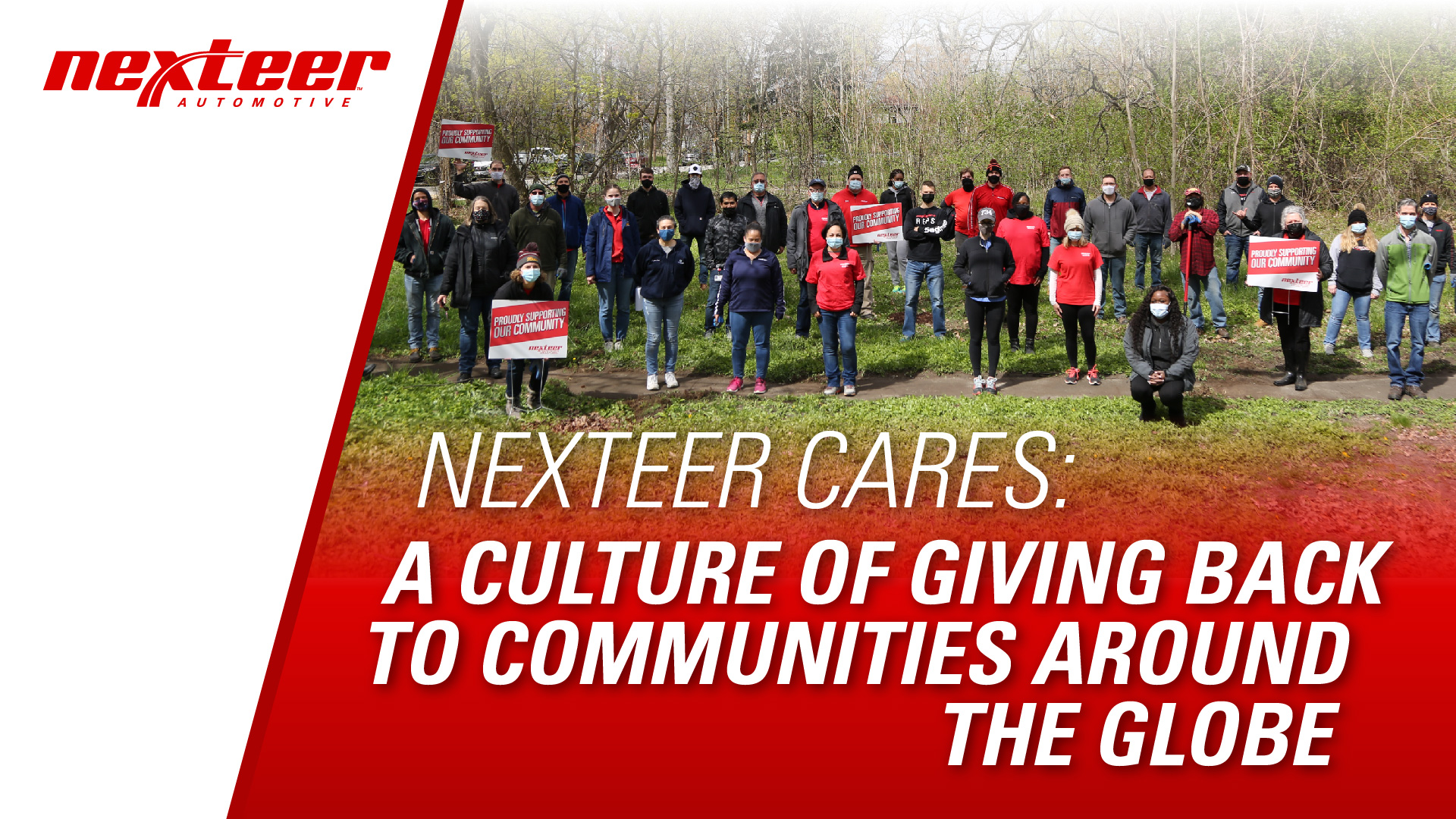 Nexteer takes great pride in our long-standing commitment to local communities – we've been giving back for more than 110 years!
In the past five years, we've contributed more than $2.1 million and more than 72,000 employee volunteer hours to support charitable causes and community programs in the communities where Nexteer employees live and work around the world.
Our corporate citizenship program – called Nexteer Cares – focuses on giving back to the communities where we operate by:
Seeking to be the business neighbor of choice in every community where we maintain a presence
Supporting the economic prosperity of the communities where our employees live and work
Supporting & encouraging the involvement of our employees in company-endorsed community endeavors
Enhancing technical & economic education by supporting Science, Technology, Engineering & Math (STEM) educational opportunities
Promoting a culture of collaboration by supporting community-based initiatives that engage our employees, make a difference in the lives of others & matter to our employees
In 2021, Nexteer employees took part in numerous Nexteer Cares initiatives designed to keep neighborhoods clean, residents healthy and students learning.
Giving Back to Nexteer Communities Around the Globe
As the world continued to be impacted by the COVID-19 pandemic, our traditional community service approach looked a little different this year than in the past. With community efforts spread throughout the year, our team members supported their neighborhoods and gave back to those in need in a variety of ways:
Saginaw and Bay City, Michigan, USA: More than 150 Nexteer and UAW Local 699 team members volunteered to build 10 ramps as part of Project Independence, a volunteer effort coordinated by the United Way of Saginaw County and the Disability Services Network that creates and donates exterior home mobility ramps in the Great Lakes Bay Region.
Querétaro, Mexico: The Nexteer team raised $200,000 to build a shelter for children and their families seeking medical treatment.
Gansu Province, China: The Nexteer team helped set up the third Nexteer Library in a primary school in Gansu Province. Nexteer has donated over 3,000 books, new bookshelves, reading desk and chairs to the libraries.
Saginaw, Michigan, USA: Nexteer employees and UAW Local 699 team members volunteered at the East Side Soup Kitchen – serving hot meals to hundreds of food insecure residents.
Bangalore, India: The Nexteer team donated essential medicine and medical equipment to the Mahanthalingapura Primary Health Center which serves 40+ nearby villages.
Zhuozhou, China: Nexteer donated reading materials, toys and sporting goods to local special education schools. Volunteers also participated in their lessons, played puzzles and read books with the students.
Supporting Community Sustainability Initiatives
In 2021, we also worked with local conservation and sustainability groups to clean up neighborhoods and create a safer, greener environment for local residents:
Earth Day: 45 Nexteer volunteers planted 40 trees, cleared sidewalks and picked up trash on more than 10 lots in Saginaw, in collaboration with the Saginaw Basin Land Conservancy.
World Environment Day: Our Nexteer team worked with the Saginaw Basin Land Conservancy to host a neighborhood clean-up – including removing 4,000 pounds of trash and debris from vacant lots in Saginaw.
Developing the Next Generation of Automotive Leaders
Another focus of our charitable giving is promoting and supporting educational initiatives, particularly in the STEM field. From mentorship programs to the Nexteer Scholarship Fund, we pride ourselves on supporting students pursuing degrees in STEM education and enabling students to discover career opportunities in manufacturing and STEM-rich environments, including:
Nexteer Scholarship Fund Golf Outing: Our annual golf outing in Saginaw enabled us to award $50,000 in scholarships to 35 recipients in 2021 and 2022.
FIRST Robotics Sponsorship and Lego League Competition: We hosted a First Lego League competition, a STEM-focused robotics competition for local Michigan students. 60+ Nexteer volunteers and many Nexteer coaches and supporters contributed their time and talents throughout the year to support the event.
Thank you to all of our Nexteer team members who volunteered their time and talents to community service projects in 2021 – your efforts continue to make a difference! And we look forward to continuing this commitment to community support in 2022 with more Nexteer Cares initiatives around the world.