Nexteer @ The Races in the U.S.
Nexteer & Richard Childress Racing:
A Shared, Winning Formula
Safety-Critical, High Performance
Relentless Innovation
In-House Ownership from Concept to Pavement
Integrated Systems
We partnered with RCR for the NASCAR XFINITY Series as a primary sponsor of select races for No. 02 Chevrolet Camaro driven by Matt Tifft. We also jumped into the action as an associate sponsor for select NASCAR Sprint Cup Series races.
Our partnership of like-brands showcases Nexteer's advanced steering technologies and gives us an opportunity to connect with our global customers and employees through an adrenaline-packed sport. In turn, RCR benefits from our power steering technology, renowned for exceptional performance, handling and safety.
Request Matt Tifft's 2018 Hero Card

Nexteer @ The Races in Europe
Fiat Abarth Racing Trofeo Abarth Europe and Italia series & NASCAR Whelen Euro Series
Precise steering response, agility and high dynamics are particularly important when the car is dashing at 200 km/h across a limited space surrounded by other vehicles.
Our presence on European race tracks debuted in 2014 with Fiat Abarth Racing – Trofeo Abarth Europe and Italia. Our engineers worked with Fiat Abarth Racing's engineers to create an electric power steering that was precisely tailored to the intense demands of the racetrack.
In 2015, we added NASCAR Whelen Euro Series (the European edition of the U.S.'s NASCAR) and supported two great drivers – Anthony Kupmen and Ulysse Delsaux.
"Races of 28 cars speeding 180 km/h or more on a track of 800 m demand a lot of skill, engagement and mutual respect. It is a high-level practice, which should be on a list of things to do of every real racing driver," said Jerome Galpin, President and Executive Director of NASCAR Whelen Euro Series.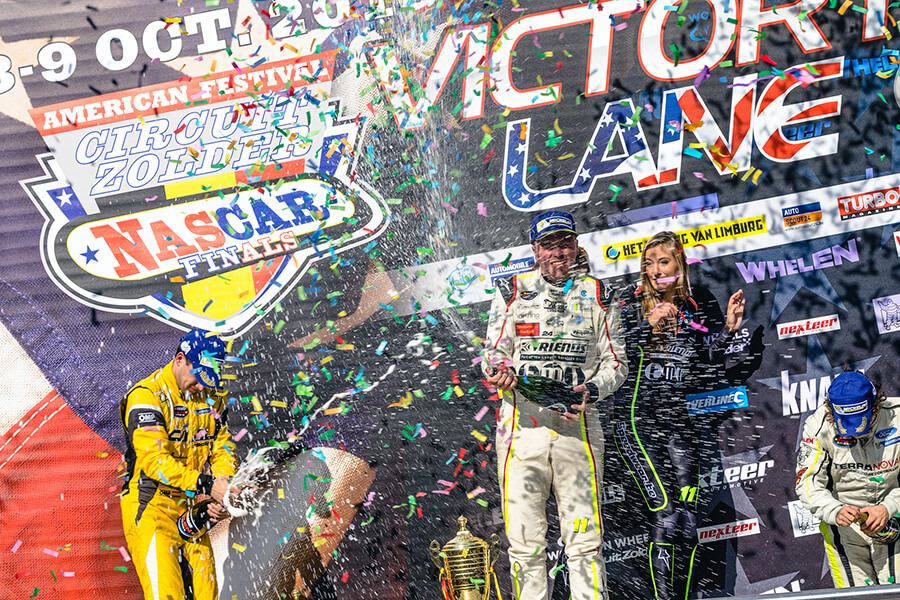 Trackside with Our Students & Interns
Team-building, Innovation, Creativity & Recycling
Over 100 students participate every year in the EPS Driven event where teams race student-built electric power steering-driven go-karts! This annual event provides a hands-on opportunity for co-ops and interns to strengthen their skills in engineering, team building and creative recycling of scrap materials.
Each team is provided with an electric power steering motor, a car battery and $300 budget to develop a go-kart which they raced. Go-karts are  judged on originality, racing performance and use of recycled scrap from our Saginaw production facilities.