Combining EPS and Driveline Expertise for Cost-Effective eDrive Technology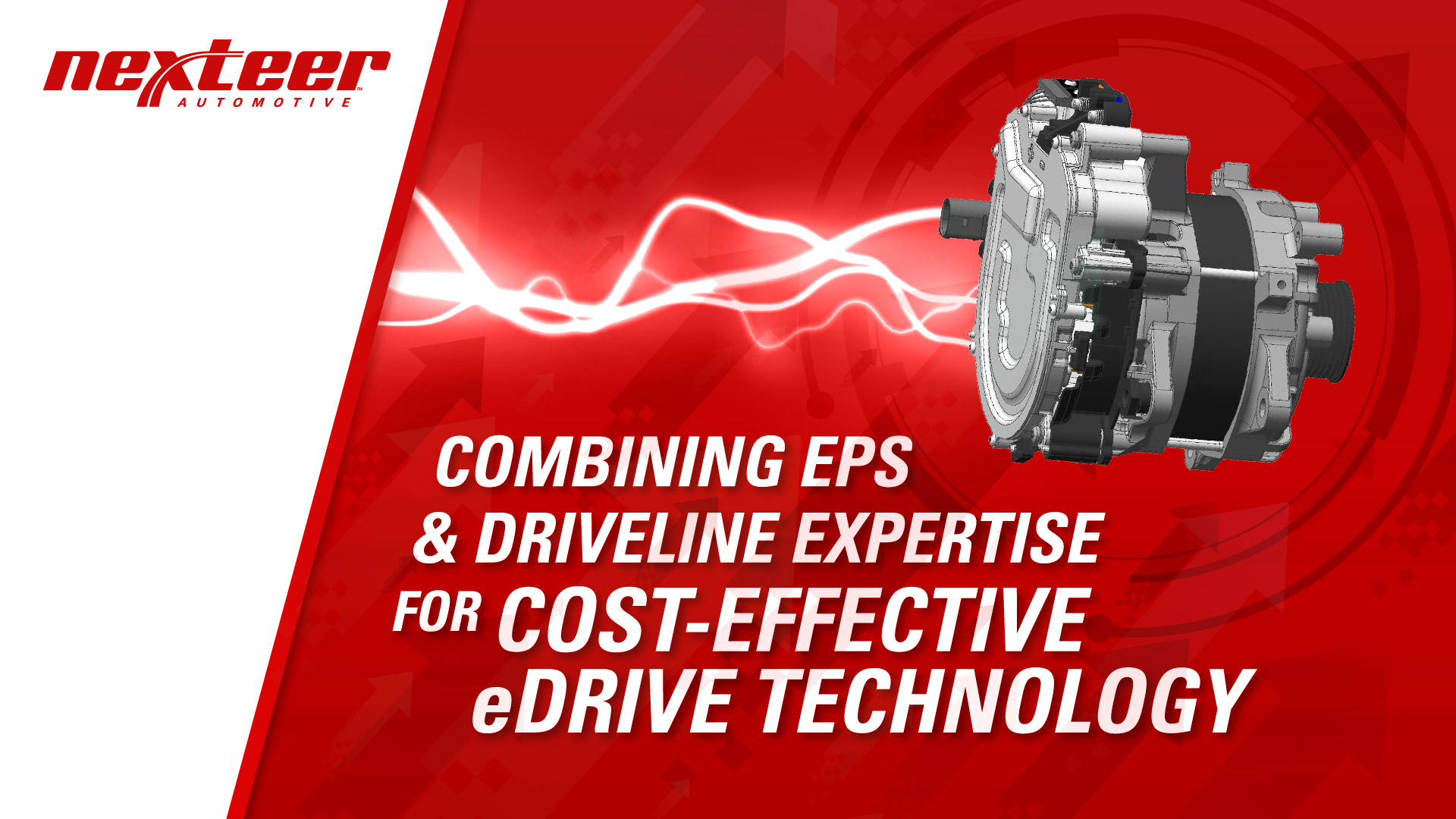 The automotive industry's shift toward electric vehicles is well underway, and throughout the transition, many automakers are also producing hybrid vehicles to make their internal combustion engine (ICE) platforms more fuel efficient. This is driven in part by emission and fuel efficiency regulations around the world, as well as consumer demand for more fuel-efficient vehicles.
To support automakers' hybrid vehicle plans, we recently introduced eDrive as a new product line, beginning with the launch of our 48-volt Integrated Belt-Driven Starter Generator (iBSG). This eDrive technology – built to hybridize conventional ICE vehicles – is an innovative, cost-effective technology for improved fuel efficiency and enhanced driver comfort.
Leveraging Expertise from Existing Product Lines
The 48-volt iBSG combines decades of experience and technical expertise from existing product lines such as Electric Power Steering (EPS) systems and Driveline. By leveraging our know-how from existing technologies, we have developed an integrated, cost-effective eDrive solution to help OEMs meet emissions regulations around the globe.
Production of the new eDrive product line also draws on our expertise in quality manufacturing systems, our scalable supply chain and global footprint of both technical centers and manufacturing locations.
Cost-Effective Hybridization and Driver Comfort
Nexteer's 48-volt iBSG eDrive is a highly integrated electro-mechanical propulsion system that is connected to the engine crankshaft through a belt. It is equipped with a high-efficiency electric motor, power electronics and advanced control software. This compact, cost-effective device serves as an additional power source that hybridizes ICE vehicles.
In addition, 48-volt iBSG improves fuel economy by using an electric motor to increase the efficiency of the ICE vehicle. The 48-volt iBSG recoups the vehicle's kinetic energy during deceleration and returns this captured energy during acceleration to boost the ICE and drive improvements in fuel efficiency.
For drivers, the technology enhances comfort during engine startup and transmission gear shifting processes – while also achieving better driving performance.
Building on Our Electrification Product Portfolio
The launch of our eDrive product line enhances Nexteer's ability to help OEMs meet fuel efficiency and emissions regulations which vary among global markets. eDrive is one more example of how our product portfolio aligns with the electrification megatrend, joining technologies such as High Output EPS systems, premium Driveline solutions with high efficiency joints and other innovations for electrification.
With the addition of our eDrive product line, Nexteer is well-positioned to support automakers with innovations in motion control at each step throughout their electrification journey.