Acoustics and Vibration Center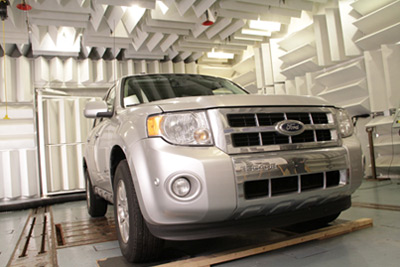 Nexteer's Acoustics and Vibration Center (AVC) provides an onsite state of the art, best-in-class facility – a world class "ear" that is listening closely to customer expectations for the next level of vehicle acoustic performance. The 39,000 square foot facility includes full vehicle and multiple system and component world class hemi-anechoic chambers. In addition to our hemi-anechoic test chambers, the AVC includes:
Vehicle preparation area, complete with two hoists for product installation
Access to our multiple road surface test track at the Vehicle Evaluation Center
Large, 18,000-pound, three axis sequential shaker for structural vibration and durability testing with environmental (temperature cycling) capabilities
Test systems for steering and component level squeak and rattle testing
Isolated bed-plates for structural and modal analysis
The AVC has developed proven capabilities to solve complex customer issues. The facility allows Nexteer engineers to measure vehicle, system and component level acoustic and vibration performance. Included in our capabilities are 1D and 3D numerical and simulation capabilities to understand noise and vibration performance prior to sample builds.
Nexteer experts leverage the AVC to optimize our products to seamlessly integrate with customer desired vehicle characteristics.